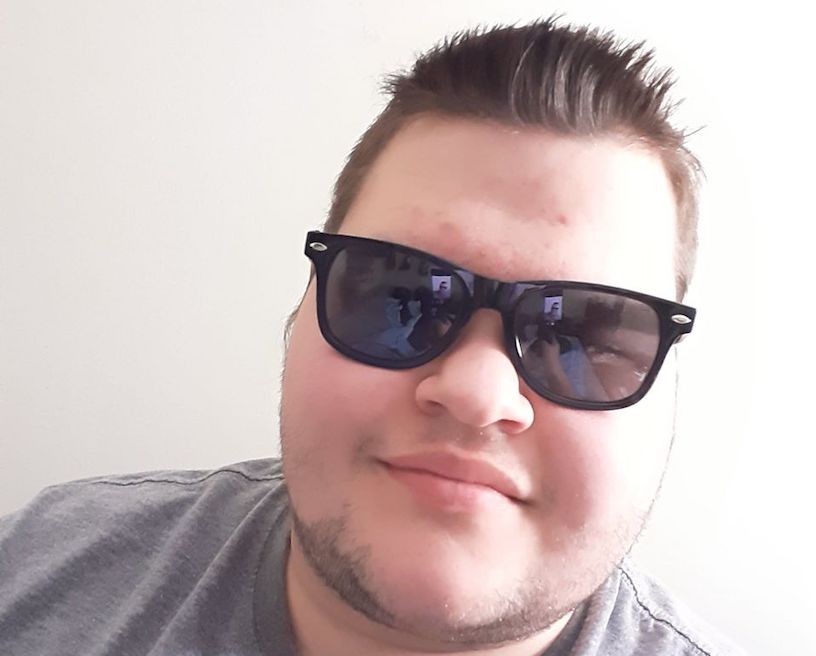 Adam Aelick (1998 – 2020) – Life and Advocacy
Early years and 22q diagnosis
Adam Aelick was born February 18th, 1998 in Sudbury, Ontario, Canada. A few days later, he was airlifted to Toronto's Hospital for Sick Children (SickKids) due to health issues. There he was diagnosed with Tetralogy of Fallot, and then with 22q11.2 deletion syndrome (DiGeorge syndrome). Adam spent a great deal of time in hospitals as a child due to pneumonias and complications related to his condition. He also had open-heart surgeries at 18 months and again at the age of 5.
School
Adam was in speech therapy, physical/occupational therapy and other programs to help him progress. So when he started school, although smaller than most kids his age, he was seen as an equal to his peers. By grade 7, Adam started falling behind in school and social skills. He also started struggling with mental health such as anxiety and depression. At that point, Adam was switched to a special education "life skills" class as a way to help him overcome some of his academic and personal struggles. He was able to reintegrate into mainstream classes, which is not very common. He finally graduated in 2017 at the age of 19. It was a very proud moment for the whole family.
Music
When Adam was about 12, he began playing music with Sudbury Youth Rocks, a local organization for kids who struggled with bullying. Although he did not read music or play by ear, Adam had a knack for music, and was able to learn to play by watching others and by repeating it several times. Music gave Adam an outlet, and helped him gain the confidence he needed.
Inspiration
In 2015 Adam and his mom attended the 22q Family Conference at SickKids. Adam was apprehensive at first, but finally realized that he was not alone—that there were others who had similar struggles. He became inspired. He wanted others to feel the same sense of community he felt after that first conference.
Coming of age
When Adam was 18, he had outgrown the 22q Deletion Syndrome Clinic at SickKids, and was now moved to the Toronto General Hospital. It was bittersweet. SickKids had been the only hospital he knew for so long, and they had saved his life on a few occasions. Adam's primary facility became the Dalglish Family 22q Clinic (formerly known as the Dalglish Family Hearts and Minds Clinic). He felt at home here and had wonderful supports. He had frequent check-ups, and aspired to one day making the 5-hour trip via bus to a big city alone one day without his mom. In the fall of 2019, at the age of 21, he accomplished this, and felt even more empowered.
Overcoming struggles
Adam had always had a hard time making and keeping friends. Many times he had been taken advantage of even abused, mentally and physically by people who claimed to be his friends. Having found his confidence, he managed to rise above this and left a very abusive friendship. He found an apartment and moved out on his own. Not long after that was when he started his social media pages. With the help of family and support systems, he thrived. He found a job and worked 3 days a week at a local woodshop that employs people with disabilities. He enjoyed bowling with the local Special Olympics. One of Adam's favorite places was Club Kodiak, a summer camp for adults with disabilities; he was fortunate enough to attend for 3 summers.
Advocacy
Adam started his social media pages in 2017 to spread positivity, and to encourage others. He wanted them to know that they were not alone. Adam had a very huge following and interacted with many on a regular basis. He was part of many online 22q support groups and made his presence known in a very positive way. He shared his stories and successes as well as his struggles. Adam gave many the hope that it would also work out for themselves, or the 22q warrior they loved.
Legacy
On April 16th 2020, Adam gained his wings. After being unwell for a few days, Adam was taken by ambulance to the hospital where he later suffered a cardiac arrest and did not recover. Adam's heart, lungs and brain have been donated for research, so that scientists can understand more about tetralogy of Fallot and 22q. His story of courage and determination will live on in all the lives he touched, and all those he inspired.