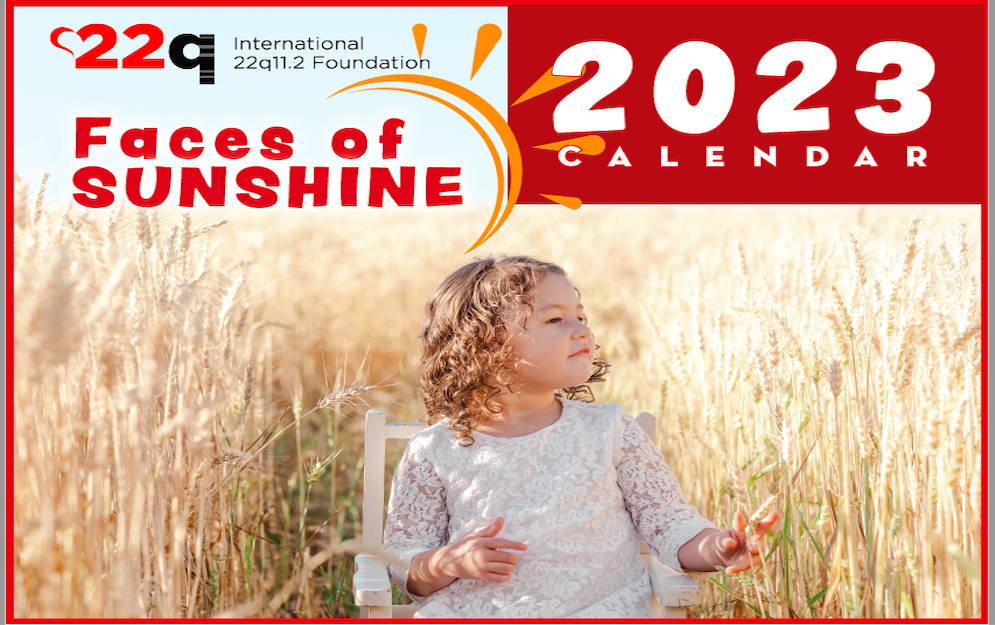 Faces of Sunshine 2023 Calendar
Announcing The International 22q11.2 Foundation's 17th Annual Faces of Sunshine
 On behalf of the International 22q11.2 Foundation, Inc., it is our pleasure to announce the featured children for each month of our 2023 Calendar. This year was particularly challenging as so many wonderful photos were submitted, but we have managed to include all eligible entries throughout the calendar.
January –  Jasmine J from Philadelphia, Pennsylvania
February – Weston S from Greenfield, Indiana     
March – Davis G from Calhoun, Georgia
April – Madelyn G from Chelmsford, Massachusetts
May – Julie K from Alamogordo, New Mexico
June –  Mateo V from Highspire, Pennsylvania
July –  Charlotte K from Charlton, Australia
August – Peyton E from Downingtown, Pennsylvania
September – Saralyn W from Lake Lynn, Pennsylvania
October –  Emerson E from Oconomowoc, Wisconsin
November – Olivia W from Lithopolis, Ohio
December – Hannah C from Sparta, Kentucky         
…and the 2023 Cover Goes to Myla K from Perryopolis, Pennsylvania                           
Many thanks to all who submitted photos; we very much hope you enjoy the calendar as well as all of the beautiful faces of sunshine throughout the New Year!
This calendar is a great way to show your 22q pride. Additionally, this item makes a lovely holiday gift; so order now to ensure all orders can be filled.
Calendars may be ordered via our website here. 
All proceeds benefit the work of the International 22q11.2 Foundation, Inc.
Regards,
International 22q11.2 Foundation, Inc
Calendars will begin shipping December 15th.