Posted August 10, 2021
Michael was born in Franklin, TN, USA. When Michael was 8 years old, he was diagnosed with the 22q duplication (22q11.23). He was also diagnosed with Autism, ADHD and accommodative esotropia (vision). He is 11 years old now. Michael has always been a curious and thoughtful child. As a toddler, one answer to a question was never enough. There were always many questions, for clarification. If he has an interest in something, he will dedicate the time to learning about it.
Michael attends a public school with regular classes, for the most part, with tons of support. He has definitely had some challenges at school, but his school's teachers and administrators have been so supportive. They worked diligently with his parents to get his 504 plan set up to ensure he has everything he needs to succeed. He has also had amazing speech and occupational therapists that have helped him so much over the years.
Michael enjoys drawing and making animations on his computer. He loves reading and gaming. His favorites are Five Nights at Freddy's, Minecraft and Friday Night Funkin. This coming year, Michael will be joining band. He has requested the banjo, but was told that is not an option, so he and the band director will pick out an instrument.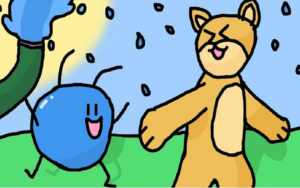 Michael absolutely loves to learn! He has taught himself how to use various drawing, animation and editing software and is currently teaching himself Japanese. He wants to move to Japan when he is a grown up.
We asked Michael's parents if they had any advice for other parents of 22q children and they say, "These kids are extra unique. Allow them to be themselves and give them the resources they need to grow." When Michael was asked what advise he would like to share with other children of 22q, he said, "I know what 22q is and what it does but I don't know what to tell them to do about it."